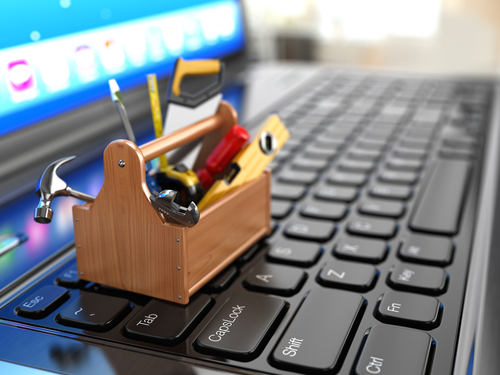 We get it – Marketo is your marketing team's tool. As hard as you may have tried to get access, you were probably told to keep your distance – "it's our marketing platform – you have [insert CRM]". It's true – Marketo has some pretty incredible features for marketers – like automated email sends based on activity and (gasp!) dynamic content based on customer segment. But the good news is YOU can benefit from this platform too, by using any of the 7 Marketo-integrated sales tools below for improving sales efficiency (courtesy of Launchpoint by Marketo):
FullContact: enriches lead data with social profile information, including basic demographics, Klout score, topics of interest and more.
Lattice Sales Prism: lead scoring tool designed to improves sales efficiency by looking at Lead, Account, and Opportunity data in your CRM and sniffing out hidden patterns to determine the DNA of your best leads. The tool then pulls in Leads, Accounts, and Activity History from Marketo and blends it with the Lattice Data Cloud to score all the leads in your database and let you know which are the hottest and most likely to close. The Lattice Data Cloud contains thousands of additional attributes across dozens of additional data sources to give a complete 360 degree view of a lead.
RingLead: The RingLead / Marketo integration prevents duplicates in Salesforce AND Marketo by merging existing records and updating leads and contacts based on recent activity. Marketo synchs to your CRM, so as leads and contacts are merged or updated, you and your sales team can be notified.
FatStax: a really cool tool you can use on your iPad that arms you and your reps with the most up-to-date collateral wherever you roam. This tool integrates with Marketo in that you can send marketing and sales collateral – e-brochures, videos, PPTs, datasheets, and more – directly to prospects from the field and capture this as an "interesting moment" both in Marketo and your CRM. This means you can automatically opt prospects into one of your marketing team's nurturing campaigns the moment after you meet them. The best part? It takes less than 1 hour to setup! Talk about improving sales efficiency…
RO|Innovation: Just as Marketo is used as the marketing campaign tool to qualify a lead, RO|Innovation is the sales campaign tool to get that lead to a closed deal. RO|Innovation's sales enablement platform recommends and aligns the right marketing content and customer advocates for the right sales situation at the right time in the sales cycle, and then packages that content in a microsite for salespeople to send to their prospects. As prospects engage with the content during the sales cycle, tracking data is written back to RO|Innovation and Marketo, giving Sales and Marketing alike key information they need to stay efficient.
TapCrowd: a great app for capturing leads at events and tradeshows and automatically pushing them into Marketo, which will then synch and update to your CRM.
Cirrus Insight: You live in your inbox, but all of your valuable customer data is in Salesforce and Marketo. Getting invaluable information about lead and contact activity out of those silos and into your hands is key to making you smarter and more efficient. Cirrus Insights allows you to open an email and immediately know who the person is and all of their interactions with your company. This includes lead data that has been gathered by Marketo such as: Lead Score, Original Search Engine, Original Search Phrase, Original Referrer, Original Source Info & Original Source Type.
Now you can instantly see how valuable a lead is, what brought them to your site, where they came from, and what they are interested in.
According to a study done by Regalix in March of 2014, 88% of marketers surveyed were either currently using or considering implementing Marketing Automation Platforms in their organization this year. If your marketing team jumped on the bandwagon, why not take advantage of their investment? There's plenty you can do to integrate with these powerful platforms the on the sales side too!
Hopefully this list gave you a few ideas for stepping up sales efficiency.
Comments
comments