There are 300 million LinkedIn users worldwide. And 41% of people now report having 500+ connections.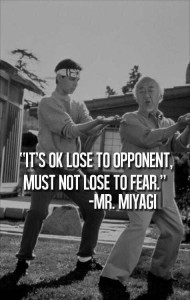 Among those could be your competitors connecting with your prospects. Don't let the fear overtake your prosperity on LinkedIn.
Take the Mr. Miyagi LinkedIn approach with these tips to grow your connection base and master prospecting on LinkedIn.
Build Lists Using People Search
Use Advanced Search for prospecting – focus on specific keywords, job titles & industries. Using this tool in the free version of LinkedIn, you will be able to see profiles of first, second & group connections. By expanding your network and joining more groups, you will have more visible profiles (and information on prospects). Remember this is a networking site where you can take advantage of the 'Get Introduced' feature. Ask someone you have in common if they can connect you.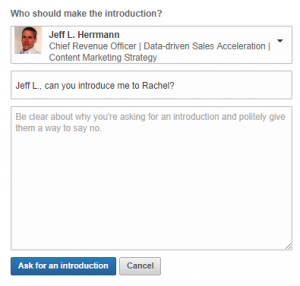 Other Ways to Search
You can also use company and alumni search to find prospects and connections. When searching companies focus on industry and company size and make sure you start following these companies. Connect with fellow alumni using this search feature; it will allow for a more personalized message.
Manage Relationships
Make sure your privacy settings are not set to anonymous. In the free version, if you are set to anonymous, others will also be anonymous to you.
Manage relationships be including how you met, remind yourself to send messages and create organized tags. You can send messages based on these tag groups.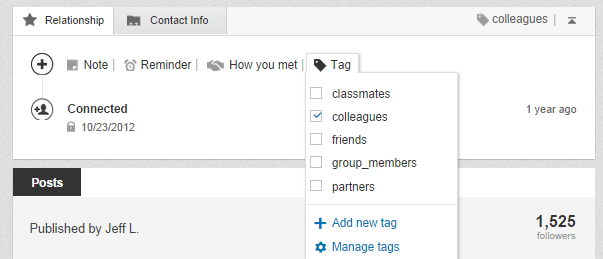 You can also export connections and sync this information to your Salesforce.com list.
6-3-1 Status Updates
 "Better learn balance. Balance is key. Balance good, karate good."
Don't have your prospects regret connecting with you. You should have balance when sharing content. Wayne Breitbarth, a real life LinkedIn Mr. Miyagi, recommends a 6-3-1 approach:
6 industry-related updates (from other sources)
3 company updates or blogs (sometimes directly from your company's LinkedIn profile)
1 sell or call-to-action
Try to keep your sharing consistent, if you can, aim for sharing around once per day.
Wax On, Wax Off Your Profile
Search for the keywords you want to be found for and check out your competition. Include these keywords in your headline, profile description and endorsements.
Never start your summary talking about the company you work for, leave that to the second paragraph. However, do make sure you are connected properly to your company's LinkedIn page.
Fill out your contact information and continually make sure it's relevant. It shouldn't only live in the contact section; include it in your bio too.
Add multimedia to showcase your work and your company's work. These can include videos, white papers, presentations, case studies, etc.
Include specific calls to action throughout your profile to encourage readers to engage with you. Mr. Breitbarth does this exceptionally well: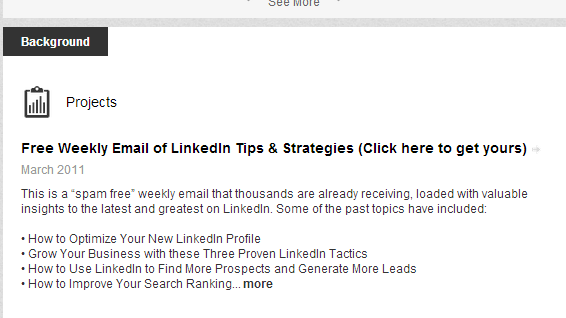 Expand Your Network and Join Groups
Join a good variety of groups. Don't exclusively belong to those groups in your industry; sometimes you would like to be the only one to solve that problem in your group. Being overly promotional will get you kicked out of the group, so be conversational, and gather insight and connections. Check out groups your prospects belong to because you can direct message fellow group members even if you are not connected.
Here's Mr. Miyagi's last piece of advice:
"Walk left side, safe. Walk right side, safe. Walk middle…sooner or later get squish like grape."
Commitment matters when building your connections and prospecting on LinkedIn. A personal brand (or karate master) doesn't happen overnight.
Comments
comments